Hệ thống bơm hóa chất công nghiệp CHEM-FEED CFPS-3
CFPS-3 CHEM-FEED® Plastic Duplex Skid System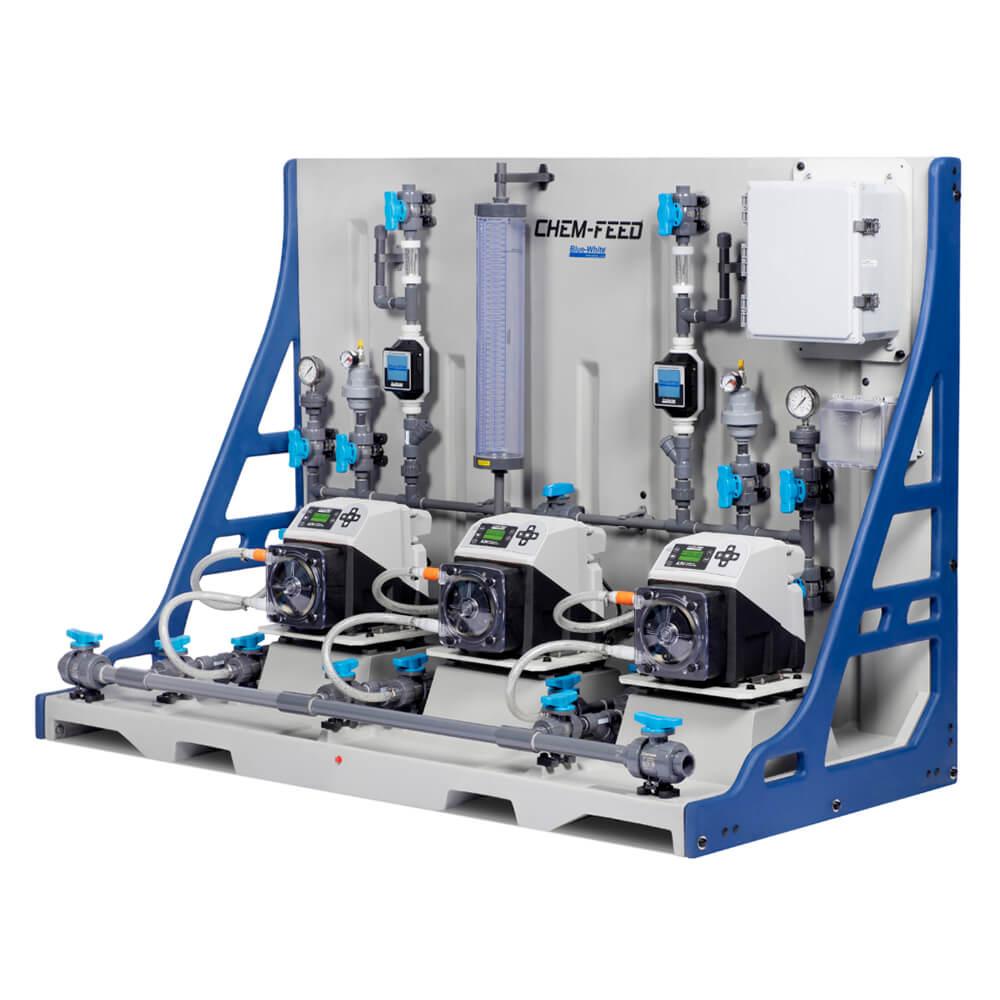 ---
---
Model

CHEM-FEED CFPS-3

Nhãn hiệu

Xuất xứ

USA

---

Lĩnh vực ứng dụng
Thông số kỹ thuật:
Chủng loại: Hệ thống bơm tích hợp 3 máy
Chất liệu khung: Nhựa Polyethylene
Kết nối: để trên sàn hoặc gắn trên tường
Áp lực: 150 PSI / 10.3 Bar
Cam kết chính hãng 100%, đầy đủ hóa đơn VAT
Cung cấp đầy đủ CO, CQ, tờ khai nhập khẩu
Giao hàng miễn phí các quận nội thành HCM
Đặt mua | 090 9988 288
CHEM-FEED® Engineered Skid Systems were designed and engineered using solid modeling tools for superior piping installation and easy component maintenance. Custom engineered universal mounting blocks provide for easy component servicing and replacement.
Benefits:
Straightforward chemical feed skid: easy to order, ready to install, 2-week lead-time
Visual flow indicator for visual confirmation that chemical is flowing
All installed components are isolated with ball valves for easy maintenance
Superior Design:
Constructed out of strong Chemical/UV resistant polyethylene
Heavy duty wall and floor mounting brackets included
Optional chemical feed flowmeter to precisely measure chemical output from the metering pump
Optional local wiring connections, easy-to-access power and inputs/outputs
Safety Features:
Threaded plug for cleaning and spill diversion in drip containment reservoir
Ball valves are vented for operator safety
Leak-free threadless connections to ensure leak-free chemical feed
What's Included:
Standard
Pressure Relief Valve – Protects the system from over-pressurization, 10-150 psi setting range, 150 psi maximum system pressure
Check Valve – Protects the user from back-flow during pump maintenance
Flow Indicator – Provides a visual indication of chemical movement through the system
Inlet Y Strainer – Recommended for Diaphragm Pump systems
Optional components (see product matrix)
Calibration Cylinder – Confirm pump output under system conditions. Specify cylinder
volumes from 1.6 GPH to 64 GPH.
Pulsation Dampener – Protect the system components from pulsation. Recommended for diaphragm pump systems only
Pressure Gauge with Guard – Isolate and protect the system pressure gauge. Specify
pressure ranges from 0-30 psi, 0-100psi, or 0-200 psi
S6A Chemical Flowmeter – Provides 4-20mA and pulse output data to SCADA and to the pump to verify chemical feed
Terminal Box: Pumps pre-wired for easy access to all electrical signal wires
Electrical Outlet Box: Designed for use in wet, damp, or dry locations
Skid Frame
Chemically resistant polyethylene structure. Welded joint construction.
Operating Temperature
14 F to 115 F (-10 C to 46 C)
Seals
FKM seals (optional EPDM).
Universal mounting blocks
Pump extended mounting brackets
Tubing clamps
300 series SS band, 400 series SS screw
Ball valves (V)
True unions, PVC body, PTFE shaft bearings and seats
Pulsation Dampener (PD)
CPVC body,10 cubic inch volume
Check Valve (CV)
PVC body. Cracking pressure: 1.0-1.5 psi. Maximum working pressure:
inlet = 150 psi, back = 100 psi.
Flow Indicator (F)
Machined cast acrylic, PVC connections, ceramic ball, PVDF ball stop,
PVC half unions.
Pressure Relief Valve (PRV)
PVC body, PTFE primary diaphragm seal. Non-wetted components: EPDM
secondary seal, zinc plated steel spring, stainless steel external hardware,
HDPE pressure adjustment screw. Infinite adjustment from 10-150 psi.
Calibration Cylinder (CC)
PVC body, PVC end caps, 1/2" PVC pipe outlet vent.
Available volumes: 1.6 GPH (100ml), 4 GPH (250ml), 8 GPH (500ml), 16
GPH (1000ml), 32 GPH (2000ml), and 64 GPH (4000mL).
Gauge w/guard (G)
Gauge: liquid filled stainless steel with blowout plug, bottom mount, 1/4"
NPT theads. Available pressure ranges: 0-30 psi, 0-100, psi, 0-200 psi.
Guard: PVC body, temperature compensated oil filled.
Tubing (T)
Reinforced braided PVC, 200 psi max, meets NSF std. 51. The pump inlet
and outlet flexible tubing connections are terminated to half unions and
secured to the barbed fitting with stainless steel clamps.
Pump (sold separately)
FLEXFLO® model A1, A2, A3, or A4 peristaltic pumps
CHEM-FEED® model CD1, C2, C3, or CD3 diaphragm pumps
Piping
Single Skid: 1/2" PVC Schedule 80 (optional CPVC).
Duplex Skid: 1" Inlet & 1/2" Outlet PVC Schedule 80 (optional CPVC).
Triplex Skid: 1" Inlet & 1/2" Outlet PVC Schedule 80 (optional CPVC).
Mounting hardware
18-8 Stainless Steel
Single Pump System
– Wall or Floor mounting acceptable
Duplex Pump System
– Wall or Floor mounting acceptable
Triplex Pump System
– Floor mounting only acceptable
Approximate Shipping Weight
Single Pump System
– Standard: 80 lb. (36 Kg)
– With Mounted Pump: 140 lb. (64 Kg)
Duplex Pump System
– Standard: 120 lb. (54 Kg)
– With Mounted Pumps: 240 lbs (109 Kg)
Triplex Pump System
– Standard: 200 lb. (91 Kg)
– With Mounted Pumps: 380 lbs (172 Kg)
---
Hệ thống bơm bao gồm các thành phần hoàn chỉnh, sẵn sàng để sử dụng được lắp ráp theo đúng tiêu chuẩn của nhà sản xuất. Sử dụng hệ thống bơm sẽ đảm bảo chất lượng được tối ưu và các công nghệ cao nhất cho dự án của bạn.
Liên hệ để nhận báo giá Hệ thống bơm hóa chất công nghiệp CHEM-FEED CFPS-3: Hotline 090.9988.288 hoặc 07.08.09.2356