Hệ thống bơm hóa chất khung nhôm công nghiệp CHEM-FEED CFS-2
CFS-2 Chem-Feed® Aluminum Simplex Skid System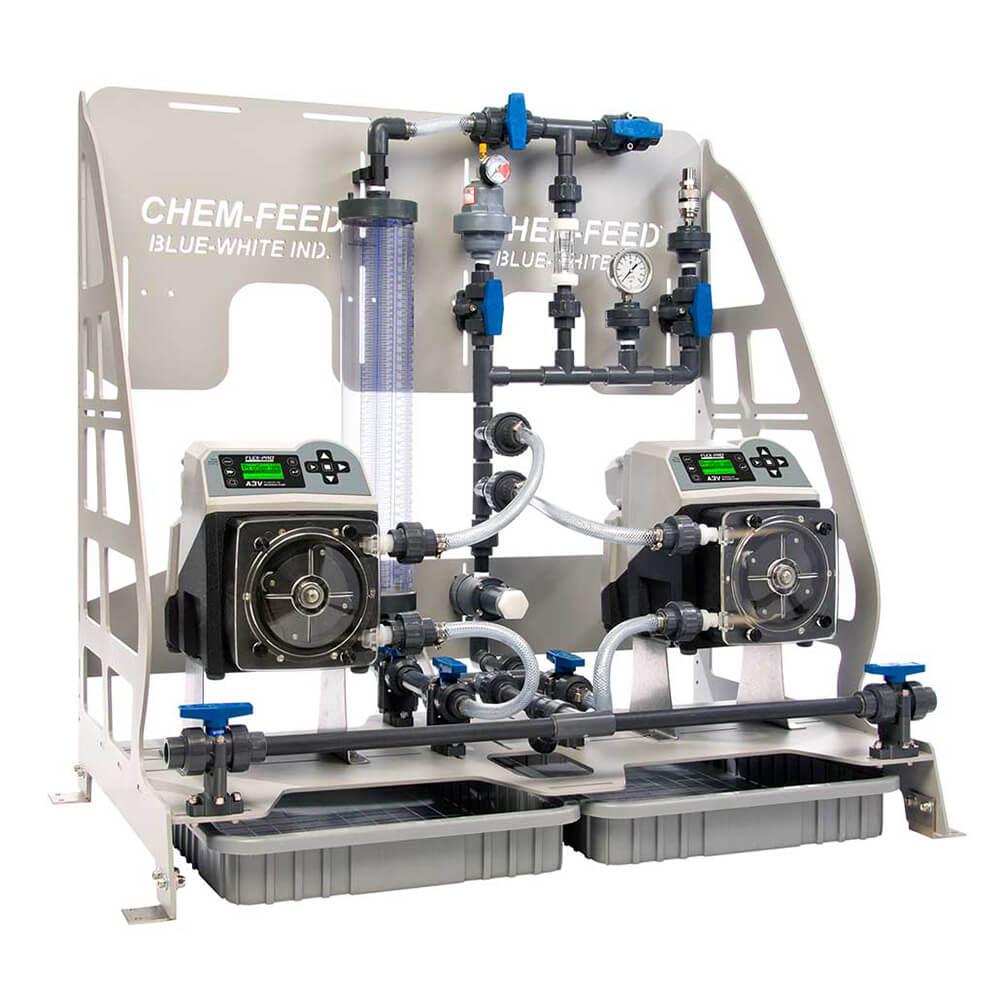 ---
---
Model

Chem-Feed CFS-2

Nhãn hiệu

Xuất xứ

USA

---

Lĩnh vực ứng dụng
Thông số kỹ thuật:
Chủng loại: Hệ thống bơm tích hợp 2 máy
Chất liệu khung: Nhôm phủ sơn bột
Kết nối: để trên sàn hoặc gắn trên tường
Áp lực: 125 PSI / 8.6 Bar
Cam kết chính hãng 100%, đầy đủ hóa đơn VAT
Cung cấp đầy đủ CO, CQ, tờ khai nhập khẩu
Giao hàng miễn phí các quận nội thành HCM
Đặt mua | 090 9988 288
CHEM-FEED® Engineered Skid Systems were designed and engineered using solid modeling tools for superior piping installation and easy component maintenance.
Benefits:
Efficient, Small footprint Design
The prefabricated design allows for easy installation, simply drop the Skid System in place and make your connections.
Each system is rigorously factory tested.
Includes pressure switch option.
Easy access to wiring components from the rear of the system.
Joints use Weld-On 724 solvent cement which is chemically resistant to Sodium Hypochlorite and other chemicals.
Dual side inlets enable connection of multiple skids to the same inlet.
The Dual Skid is capable of simultaneous chemical injection of different or like chemical; or one pump can be used as a back-up pump sitting in standby.
Available with the factory options, Custom modifications are not possible.
What's Included:
Standard
Corrosion Resistant – CHEM-FEED® skid system frame constructed of chemically resistant polyester powder coated 6061 T6 aluminum. Welded joint construction
Mounting Pads – Stainless Steel mounting pads to secure CHEM-FEED® System to a solid surface. Designed for floor mount or wall mount
Pressure Relief Valve x1 – Protects the system from over-pressurization, 5-100 psi setting range, 150 psi maximum system pressure.
Check Valve x1 – Protects the user from back-flow during pump maintenance.
Flow Verification Sensor – MS6 accurately verifies liquid chemical feed. Exclusive to Blue-White®
Inlet Y Strainer x1 – Recommended for Diaphragm Pump systems.
Optional components (see product matrix)
Calibration Cylinder – Confirm pump output under system conditions. Specify cylinder volumes from 1.6 GPH to 32 GPH
Pulsation Dampener – Protect the system components from pulsation. Recommended for diaphragm pump systems only.
Pressure Gauge with Guard – Isolate and protect the system pressure gauge. Specify pressure ranges from 0-100 psi, or 0-200 psi
Skid
Chemically resistant polyester powder coated 6061 T6 aluminum. Welded
joint construction.
Pump (sold separately)
Flex-Pro model A3 or A4 peristaltic pumps or Chem-Pro model C2 or C3
diaphragm pump.
Piping
PVC Schedule 80 (optional CPVC).
Tubing (T)
Reinforced braided PVC, 200 Psi max, meets NSF std. 51. The pump inlet
and outlet flexible tubing connections are terminated to half unions and
secured to the barbed fitting with stainless steel clamps. The calibration
cylinder fill
Tubing clamps
300 series SS band, 400 series SS screw
Unions (U)
PVC body, schedule 80, FKM seals
Ball valves (V)
Vented type ball, True unions, PVC body, PTFE shaft bearings and seats,
FKM seals
Pressure Relief Valve (PRV)
PVC body, PTFE primary diaphragm seal. Non-wetted components: FKM
secondary seal, zinc plated steel spring, stainless steel external hardware,
HDPE pressure adjusting screw and locknut. Infinite adjustment from 5-
100 psi. Maximum inlet pressure 150 psi.
Calibration Cylinder (CC)
PVC body, PVC end caps, 1/4" ID tubing outlet vent.
Available volumes: 1.6 GPH (100ml), 4 GPH (250ml), 8 GPH (500ml), 16
GPH (1000ml), 32 GPH (2000ml).
Pulsation Dampener (PD)
CPVC body,10 cubic inch volume, FKM bladder (optional EPDM bladder)
Gauge w/guard (G)
Gauge: liquid filled stainless steel with blowout plug, bottom mount, 1/4"
NPT threads.
Available pressure ranges: 0-30 psi, 0-100, psi, 0-200 psi.
Guard: PVC body, FKM diaphragm seal, temperature compensated oil
filled.
Check Valve (CV)
PVC body, FKM diaphragm (optional EPDM). Cracking pressure: 1.0-1.5
psi.
Maximum working pressure: inlet = 150 psi, back = 100 psi.
Flow Indicator (F)
Machined cast acrylic, PVC connections, ceramic ball, polypropylene ball
stop, PVC half unions, FKM seals (optional EPDM).
Y Strainer (S)
PVC body, FKM seals (optional EPDM).
S6A Chemical Flowmeter (FVS)
PVDF & PEEK body, PVC socket weld connections, FKM seals (optional
EPDM). Available working flow ranges:
10-5,000 ml/min (0.158 – 79.2 GPH
100-10,000 ml/min (1.58 – 158.0 GPH)
Universal mounting blocks
Pump extended mounting brackets
Skid mounting foot / wall pads
Drip Tray
Polypropylene,16" x 21" x 3" – 4 gallons total containment
Operating Temperature
14 F to 115 F (-10 C to 46 C)
Approximate Shipping Weight (pump ships
separately)
Single Pump System: 60 lb. (27.2 Kg)
Dual Pump System: 70 lb. (31.8 Kg)
---
Hệ thống bơm bao gồm các thành phần hoàn chỉnh, sẵn sàng để sử dụng được lắp ráp theo đúng tiêu chuẩn của nhà sản xuất. Sử dụng hệ thống bơm sẽ đảm bảo chất lượng được tối ưu và các công nghệ cao nhất cho dự án của bạn.
Liên hệ để nhận báo giá Hệ thống bơm hóa chất khung nhôm công nghiệp CHEM-FEED CFS-2: Hotline 090.9988.288 hoặc 07.08.09.2356